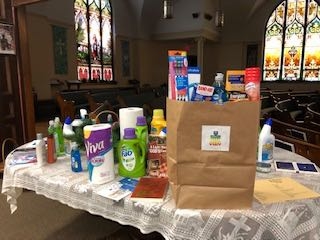 Mission Outreach
Our fellowship takes very seriously our obligation to be good stewards with the gifts that God has provided. The Mission Team identifies mission giving goals for the year under the broad categories of World Mission, National Mission and Local Mission.
We are honored to offer space in the church basement for a local charity, Christmas House. As a result setting up in a rent-free, utility-free space with ample on-site storage, Christmas House has been able to save nearly $7,000 per year and put that money into its many programs that assist Potter County families in need.
The Church offers financial support to local organizations such as the Coudersport Public Library, Community Food Bank, Eulalia Cemetery, Coudersport Swimming Pool, A Way Out and more.
Our ongoing monthly distribution of non-food household supplies to those in need continues each month on the second Tuesday. Through the generous support of other community churches, Salvation Army, local businesses and individuals, we offer such supplies as laundry detergent, toilet paper, feminine hygiene products, soap, cleaning solutions and more. All are offered free of charge. imes are 9:30 to 11:30 a.m.